.
.
.
EH Pushkin: Presencia y ausencia
.
Por Ysi Ortega
.
.
.
.
.
.
.
EH Pushkin es un artista y escritor de la India. Su obra creativa se expresa a través de la pintura, la escultura y ambas, casi siempre, acompañadas por una narrativa intensa. Más allá de que su obra plástica en sí misma contenga una fuerte carga de simbolismo visual. Su estilo obliga al espectador a escalar niveles de realidad que exceden lo perceptual, abarcando aquello que va de lo visible a lo invisible, de lo superficial a lo esencial y, por medio de la analogía, conectar las cosas que nos rodean. Cada obra del artista indio señala de forma contundente que el arte no solo es una creación para expresar belleza (en cuanto a su asociación con la hermosura, lo atractivo o deseable, lo formal o lo sensible) sino que también, a través del arte simbólico -expresión finamente desarrollada por Pushkin- es posible lograr una significativa transmisión del mensaje.
.

EH Pushkin nació en Trivandrum, Kerala-India. Actualmente vive en Trivandrum. Sus padres participaron activamente en la lucha contra el dominio británico en la India. Dicha influencia se ha visto manifestada en el artista desde muy joven. En la década de 1980 en la ciudad de Barola cofundó la Asociación de pintores y escultores radicales, un colectivo de jóvenes artistas que priorizaban la puesta de un arte con mayor consciencia social, política y económica. Desde ese entonces, Pushkin ha tenido una narrativa humanitaria que se extiende a extramuros de su frontera territorial y cultural.
Pushkin se graduó de la Facultad de Bellas Artes de su natal Trivandrum y luego en la reconocida Facultad de Bellas Artes, MS University Baroda, en donde completó sus estudios de pintura creativa con distinción. Tiempo después se muda a Arabia Saudita para desempeñarse como artista entre los años 1990 y 2000 en la Comisión Nacional para la Conservación y el Desarrollo de la Vida Silvestre (NCWCD), una organización sin fines de lucro afiliada a la UICN (Unión Mundial para la Naturaleza). Allí participa como pintor y diseñador gráfico para la NCWCD. Esto explica que en sus obras haya alusiones a una preocupación por el devenir del medio ambiente, tal como ha sido expresada en Documenting an Indian Rhino y Color of History.
.
.
.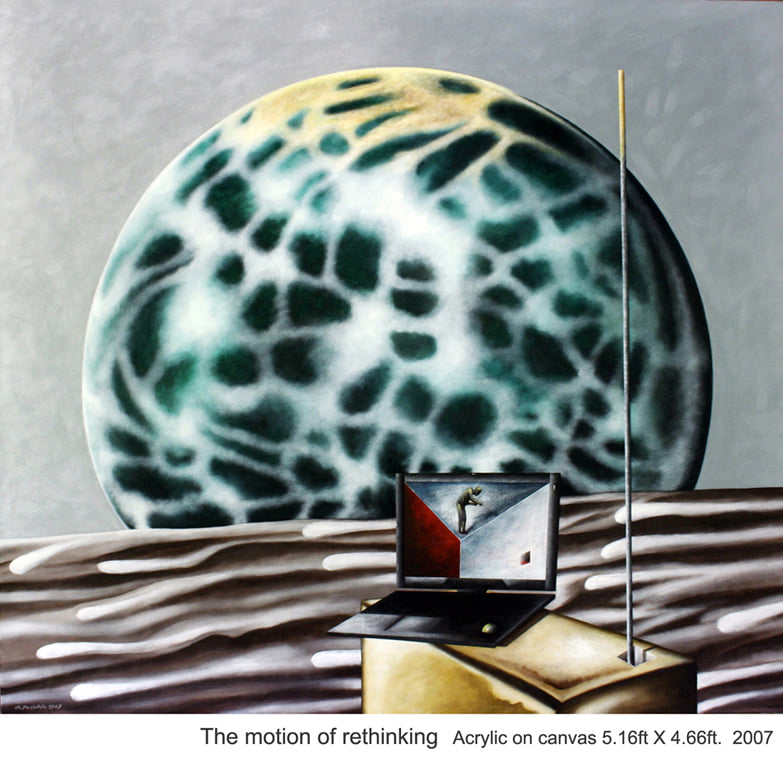 .
Aprenda más  y envíe sus comentarios

Tus herramientas de lenguaje y escritura
Elije y comienza a escribir.
Sobre una noche que aún recuerdas
Sobre un traductor que conociste en el viaje,

[...]

Escribe constantemente los atributos del contenido.
En caracteres especiales,
Escribe sobre los votos inconscientes de insomnio que hay en ti.
Escríbanos lo que piensa.
Ayude a mejorar su escritura.
Escribe, escribe tu vida.
Estamos deseando leerla.



(Primera y última parte de Aprenda más  y envíe sus comentarios .  El poema se ha publicado con la pintura El movimiento de repensar, 2007) 


.
Pushkin confronta el exceso visual de la cultura contemporánea que nos rodea a través de varias estrategias figurativas y conceptuales: una estrategia es redescubrir, reafirmar y reubicar lo sagrado / santo en cada objeto que nos rodea. Todos los objetos son primarios y centrales en los lienzos de Pushkin; nada es marginal, insignificante o indigno de atención en este mundo; todo objeto, animal, herramienta, flora y fauna junto con los seres humanos buscan, reflejan y exudan la contemplación. Aquí, todo (zapatos gastados, esfera de reloj, botones, herramientas de uso diario, mascotas, etc.) es sagrado y profundo y merece toda la atención . (CS Venkiteswaran)
.
..
..
Porque la flor azul se extiende bajo el manjanathi.
Las ardillas y las ratas esperan.
Aún así, los documentos dicen que solo tres de nosotros vivimos en esta casa…

(Del poema Solo tres de nosotros vivimos en esta casa y la pintura Cachorro de un refugio de animales, 2013)
..
.
Sus obras se han exhibido en India, Suiza, Beijing, Bangkok, Taipéi, entre otros lugares, y han encontrado lugar en colecciones privadas en India, Europa, América Latina y Estados Unidos. Los carteles creativos de Pushkin sobre la conservación de la naturaleza han sido exhibidos en Arabia Saudita y en los Congresos Mundiales de la Naturaleza en Canadá y Jordania en 1995 y 2000, respectivamente.
 

En 2005 Pushkin publica una colección de poemas que comparte título con su obra The space of invisible days (El espacio de los días invisibles).  Y como extensión de sus experimentos en arte y literatura publica The Liquid Gallery (La galería líquida), una colección de quince cuentos con ilustraciones digitales en 2014.
..
En cierto modo, estas historias son sobre el proceso del arte, o la visión del funcionamiento de la mente de un artista, o bosquejos de su relación con el exterior. Aquí se encuentra un anhelo profundo y una lucha incesante por borrar y resistir la "otredad" del mundo, tanto el objeto como el mundo viviente, las cosas animadas e inanimadas, los procesos internos y externos. Cada grabado es un intento de cubrir las diversas distancias que cultivamos en nuestras vidas y redescubrirlas. Es un acto de recuperación y reafirmación del espacio y el tiempo humano al cambiar el ritmo y de reescatarlos a sus intensidades adecuadas. (Indian Ruminations)
.
..
En un reciente encuentro virtual con el artista indio, referido al arte y las nuevas formas de pensar y de expresarse artísticamente, EH Pushkin nos comparte lo siguiente:
"Creo que el arte me mantiene apasionado y humano, ayudándome a evitar el absurdo, o de convertirme en uno de esos "amables / de clase" que no requieren imaginación para encontrar esplendores o bellezas. En el momento en que tomamos un nuevo aliento, pensamos en un nuevo pensamiento y vivimos un nuevo tiempo, no importa cuán corto o poco llamativo sea ese tiempo, nos convertimos en nuevos".
Existe un escenario no muy transitado por los artistas en general y que es una de las características del actual proceso creativo de EH Pushkin, la vinculación de dos o más géneros artísticos en sus presentaciones; es decir, pintura, escultura y textos, mayormente de carácter poético. Acerca de este punto y sobre sus prioridades al crear una obra le preguntamos: "¿Qué es primero, la obra plástica o la escrita?". Al respecto Pushkin nos dice:

"Veo que la obra de arte tiene una gran narrativa en sí misma. Ludwig Wittgenstein (vivió de 1889 a 1951), y dijo: "Los límites del lenguaje son los límites de mi mundo". Las obras de arte y la literatura son necesarias para la comunicación, pero las obras de arte como la pintura y la escultura son más poderosas ya que el ser humano es el primero en hacer dibujos y comunicarse entre sí a través de ello. (Los arqueólogos han descubierto el arte rupestre conocido más antiguo del mundo: una imagen de tamaño natural de un cerdo salvaje que fue pintado hace al menos 45.500 años en Indonesia, por ejemplo)"
En el arte, desde tiempos pasados, se ha visto una búsqueda intencional, permanente y consciente por hallar nuevas formas de expresión de un pensamiento. Esto puede entenderse como una característica que debe poseer el artista, pero también se podría colegir como el cansancio de vivir en una realidad con rumbo desconocido. Sobre el particular Pushkin afirma:
"Los seres humanos saben exactamente a dónde van, pero ignoran esos destinos por intereses egoístas. Para evitar que sucedan tales cosas, nosotros, especialmente las personas creativas, podemos crear una excelente conciencia visual que enseñe a las personas y a los gobiernos. Por tanto, las artes pueden tener un gran impacto en nuestra supervivencia."


.


* Esa foto era de muchos pájaros *


Estas son las líneas que traté de escribir anoche.

Se convertirán en un poema

Incluso pensé eso.

Pero, la oscuridad de la noche estaba oculta…


















No cabe duda de que existe una gran importancia simbólica del arte como pieza fundamental de transferencia de las más elevadas concepciones que el ser humano ha podido alcanzar, desde el aspecto espiritual hasta el sentido de orden y justicia.
Solo el ser humano es capaz de ver en los claroscuros de una tempestad la lucha universal del bien contra el mal. Solo el ser humano es capaz de ver en el beso de un ángel el anhelo interno de semejanza con el alma.
Todo lo que el hombre cree, piensa y desea se ha expresado siempre en símbolos a través del arte. A esto bien se puede agregar que, en la historia del arte vemos a extraordinarios artistas con una sensibilidad especial de observación. Como quien tiene la capacidad de viajar a lugares y tiempos que aún no son. Una muestra de ello podemos apreciar en obras del artista belga René Magritte, por ejemplo en Clarividencia.
Dos obras del artista EH Pushkin que nos muestran dicho talento son: Una habitación de dos destinos, 2005  y   Retrato de un verificador, 2019 (escultura)


La pintura es parte del estudio de un arquitecto. La escultura de un león está en su interior. Puedes ver un gran helicóptero militar dando vueltas fuera de una ventana cerca de esa escultura. La sombra de ese helicóptero también se puede ver tendida en el camino de la ventana. El león está en el camino de ir hacia adelante. Ha mordido al bebé de una pequeña tortuga marina con mucha seguridad. El león está en un viaje para enviar a la tortuga aislada al mar. La escultura del león se encuentra en la superficie donde está pintada una parte del mar. Algo similar al tema propuesto en la imagen sucedió 15 años después […] Un helicóptero, que era un símbolo del ataque de la guerra a la escultura de Sagara Kanyaka en el orilla del mar, se estableció como un objeto visual. Ahora creo que el tema de mi obra era un recordatorio del futuro. (EH Pushkin)

.


"Esta es una de mis esculturas recientes que creé en 2019 y expuse en la Galería de Arte Lalithakala Akademi en Vyloppilli Samskriti Bhavan, Trivandrum en noviembre de 2019. La escultura titulada Retrato de un Verificador retrata una cabeza humana, en un pedestal que ha enmascarado la mitad de su rostro para resguardarse de algo pérfido, y esta visión se convirtió en una realidad cinco meses después en todo el mundo. El trabajo es deliberado, ya que el verificador tiene miedo de estar avanzando hacia un mundo contaminado, modelado por el estilo de vida y el egoísmo profundo de los seres humanos.
[…] Si no cambiamos nuestras formas de vida, la tierra se volverá incapaz de albergar formas de vida y gradualmente se deslizará hacia otra extinción…" (EH Pushkin)




"El arte puede actuar como protagonista para contrarrestar la razón contra las razones establecidas por el universo y la naturaleza". (EH Pushkin)

.

¿Contraseña olvidada?

Han pasado años desde que lo olvidé y comencé a recordar qué era. Esa contraseña me hubiera bastado si no la hubiera olvidado para entrar en otra vida, para escuchar pacientemente todo lo que todos los sentidos de esa vida tienen que decir y ser el único testigo de vivir toda esa vida.
[…] 
La necesidad de una nueva contraseña nunca ha vuelto a cobrar vida. Las contraseñas deben crearse solo para aquellos que desean encontrar y unir las partes de la vida que no pueden avanzar en diferentes lugares.
Olvidar una contraseña, un cuento, toser, hojas caídas amarillas y mixtas; cosas que no son mutuas, a veces parece que la vida no lo es.
[…]
Olvidar es un lenguaje que está muerto dentro de mí. Es por eso que todavía no puedo memorizar o copiar esa contraseña incluso hoy, no importa cuánto lo intente. De hecho, la contraseña olvidada fue una sola palabra escrita con los nombres de dos colores en las hojas que caían de esos árboles.

( El texto completo de Contraseña olvidada junto a la pintura Viejo cruzando un paisaje llamado Recuerdo, 2021 ha sido presentado como parte de la  exhibición en Lokame Tharavaadu (El mundo es una familia) en Alappuzha, el 18 de abril de 2021.



"En un mundo en el que aparentemente se tambalea por el exceso de palabras, sonidos, imágenes, narrativas, información, respuestas…, pronto se pierde el contacto con uno mismo; tendemos a perdernos en esta aparente -aparente ausencia – presencia de la vida, perdiendo el control sobre la escala y la proporción, las prioridades y la atención. Poco a poco todo se convierte en sus apariciones, y las apariciones comienzan a absorbernos y envolvernos en un juego interminable de presencia y ausencia, inmediatez y aparente compromiso". (EH Pushkin)
.
.
.
.
.
.
.
https://www.facebook.com/sarah.pushkin.9
https://www.instagram.com/ehpushkin/?hl=en
.
…Una guía para no ser guiado…
.
Visits: 7189