..
….
Final de GAME OF THRONES: Atrapados por un buen relato…
..
Por Ricardo Virhuez

Yo estaba tratando de ganar el trono para salvar el reino, cuando debería intentar salvar el reino para ganar el trono (Stannis Baratheon, Juego de Tronos)
…..
.
Ha sido el capítulo más "sublevante" de los que he visto hasta ahora. Pero no me crean, ya he dicho eso otras veces. Creo que una de las razones de la endiablada pasión que despierta GAMES OF THRONES (GOT) es que se rinde ante el arte de la ficción, esa magia milenaria. Los humanos nos rendimos ante la ficción sin concesiones. Y cuando la ficción falta, nos aburrimos, bostezamos, dejamos de leer libros y ver películas. En GOT es imposible salir ilesos. Cada personaje está desalmadamente desarrollado, y su único parangón en literatura sería Shakespeare, y quizá Balzac, el que competía con el registro civil. Aristóteles estaría feliz con una creación que construye y reconstruye la trama, pues despreciaba a los que simplemente acumulaban escenas. Y sin duda, Hobbes y Maquiavelo aprobarían el crudo realismo de lo político: no hay salvación, la política es el arte del delito, el camino del crimen, el destino final de los tiranos. Esta fiebre (literaria y de Tv) no es nueva. La despertaban las novelas por entregas, esos folletines que después se convertían en obras maestras. Por eso un sincerado Vargas Llosa declaró una vez que tiraría todas sus novelas con tal de tener una sola que tuviese el arraigo de "Los Miserables" de Víctor Hugo. Pero la novela en general está bastante lejos del juego de tramas, de las evoluciones de los personajes, del suspenso y la intriga, y más bien estamos dopados con el lenguaje, la prosa retórica, la frívola retórica, la desordenada retórica, la aburrida retórica. GOT nos atrapa con su intriga desatada, sin duda, un artificio que revela nuestra debilidad por los buenos relatos. Ojalá algún día la literatura regrese a ese universo sencillo y feliz de las buenas historias. Qué felices seríamos los lectores.
..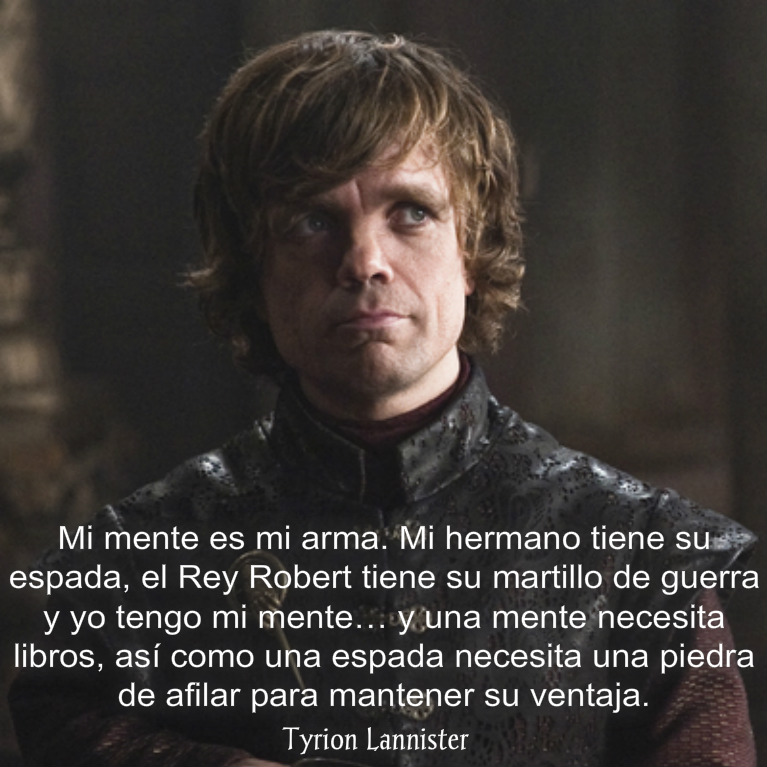 ..
GOT terminó a lo Shakespeare (y a pedido del público, "cuidado, que vienen spoilers"). No era para menos. Su historia dio un círculo que, ahora que ya sabemos el final, se vuelve anunciado. El final se explica en los comienzos. La suerte de los personajes no es la que los lectores y espectadores quieren, sino la lógica interna inflexible. Es una lógica distinta de la vida y los merecimientos. Es injusta, contradictoria, incoherente a veces, pero necesaria. Por ejemplo, se trata de una historia de asesinos. A menudo olvidamos este pequeño detalle. Y si en las últimas temporadas se ha olvidado las motivaciones reales de cada muerte y cada venganza, al comienzo en cambio todas las motivaciones eran precisas: la riqueza, la economía. Por ejemplo, Tywin Lannister (padre de Cersei, Tyron y Jamie) era un personaje perfecto: ambicioso, cruel y realista. Era el capitalista en tiempos feudales. La esencia de la rapacidad. Con él, cada uno de los actos de guerra tenía sentido en la ambición por el dinero. Era el banquero que movía reyes, nobles y soldados a su gusto. Una vez muerto por su propio hijo, las motivaciones objetivas desaparecen y destacan los móviles subjetivos: amor, desamor, venganza, etc., como si fueran hechos movidos por fuerzas oscuras y misteriosas. Aunque fuese extraño decirlo, pero esta saga escrita por George R.R. Martin tiene tanto realismo que puede leerse como una metáfora de nuestra cruda realidad. La suerte de Daenerys es dolorosa por varios motivos, y quizá la última sea la más fresca de expresar: confió y se enamoró del traidor que la mataría cobardemente.
..
..
Daenerys fue el único personaje trágico digno de admiración, desde el comienzo hasta su triste final. Porque su asesino Jon Snow fue el más opaco de todos, sin desarrollo, sin alma, el despojo que el destino arrastra sin que él mismo lo comprenda. Destacado en lo militar, y nada más. Incluso en el tema amoroso los desenlaces son contradictorios: la infame relación de Cersei y Jamie termina con su muerte juntos, abrazados; mientras que la esperanzadora relación de Jon Snow y Daenerys culmina con el asesinato cobarde y a traición. El autor juega con nosotros. Vieja táctica de provocarnos enojos luego de haber ganado nuestras simpatías por algunos personajes. Aquí sobrevive el que aprovecha la debilidad del otro. Una de las grandes cosas del creador de esta historia de aventuras, fantasía y guerra es que ha logrado que el espectador se identifique con determinados tipos de asesinos; es decir, que tenga empatía con criminales, ya sea que lleven los apellidos Stark, Baratheon, Lannister, Targaryen, Greyjoy, Tully o Arryn. Hasta el dragón asesinó y quemó a más gente en pocos minutos que todos los asesinos juntos de la saga. Es que la ficción es capaz de destrozar nuestros valores más preciados cuando sentimos empatía por personajes que sufren, sean estos demonios o villanos. El discurso del crimen como el camino al poder es bastante claro en las ocho temporadas de GOT. Bran Stark es arrojado de lo alto del castillo y queda inválido para, años después, convertirse en rey de los seis reinos. Y ya lo sabía. Los griegos y Shakespeare siempre presentes con su idea del destino. Toda batalla es en vano. Ya está escrito todo. Ni un solo personaje tenía las manos limpias de sangre, pero solo los muertos de los caminantes blancos carecían del sentimiento de venganza y codicia de los vivos. Una de las tantas paradojas de la historia. En realidad es algo más simple. Lectores y espectadores, aplastados por noticieros manipulados, encuentran una nueva lectura del mundo desde la extraordinaria ficción de George R. R. Martin, que actualiza los temas de la guerra y los genocidios, y sobre todo del poder político, y al igual que Vargas en "La guerra del fin del mundo", enarbola el mensaje de la inutilidad para cambiarlo, la vuelta al orden, la paz de los cementerios. De ahí el origen del enojo de muchos espectadores contra la suerte de algunos personajes, como Daenerys, cuyo ejército contenía negros, salvajes y todo tipo de culturas. Pero triunfaron los blanquitos rubios, los hombres, que temían al poder desatado de las mujeres…
Finalmente, ya que el final ha sido a lo Shakespeare, con discurso explicativo y jugando con el título de la saga, ha sido el pequeño Tyron Lannister el que nos dejó una frase memorable: "No hay nada más poderoso en el mundo que una buena historia. Nadie puede detenerla. Ningún enemigo puede vencerla". Si pudiera, brindaría con un buen vino por Daenerys, mi asesina favorita.
..
..
..


El hombre que teme la derrota ya ha sido derrotado. El miedo hiere más que las espadas. – Syrio Forel


Cuando juegas un juego de tronos, o ganas o mueres. – Cersei Lannister
……..en GAME OF THRONES (JUEGO DE TRONOS)
.
Ricardo Virhuez es escritor e investigador independiente. Director de la Editorial Pasacalle en Lima- Perú
https://www.facebook.com/epasacalle // https://www.facebook.com/virhuezv
.
...Una guía para no ser guiado…
..
.
Visits: 1213